Judo and Ju-Jitsu practitioners and contacts
Details

Written by EJJA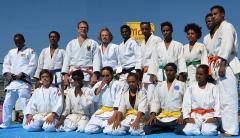 Judo and Ju-Jitsu practitioners in Ethiopia comes from different regional states and cities that organized in clubs and associations with committee and boards mainly in Addis Ababa, Amhara, Dire Dawa, Harar, Oromia, and Southern Nations, Nationalities, and Peoples' Region. In other regions mainly in Tigray the first steps are in process.
This development has been taking place since 2007 years. Trainers and students are supported voluntarily and mainly by Dr. Tsegaye Degineh and Mr. Johaness Daxbacher that are recognized by the International Federations as well as others voluntaries.
It has been achieved incredible much.
Seminars by Grandmaster Hannes Daxbacher, 6. Dan
Seminar by Dr. Tsegaye Degineh, 5. Dan
A knowledge transfer and quality management were needed, hence in Ethiopia the sport is new and was hard to find highly qualified instructors in Ethiopian It was necessary to have a knowledge transfer and has been supported by many trainers that have recognized and high qualifications. The students learn to update their knowledge continually and visit regular seminars.
Graduation and Upgrading took in international guidelines. The students respected the principle of Martial Arts and to grow up with the time to achieve their student and instructor rank as well. Respect, discipline and following the standards of international rules and recognition are the basement to be a qualified in Judo and Ju-Jitsu. Ii is important to accept the graduation and its procedure as it is the part of the ranking process and as a standard that belong to the examination conditions. The output of the dedicated athletes reached meanwhile high performance and able to compete at international level.
The practitioners working close to establish an organizing committee that enable a transition to Federation.
Recognitions and visit
It is a great pleasure and honor that high level personality of Sport and Judo and Ju-jitsu visited the activities and convinced from the work on the ground.
H.E. Willi Lemke, (Head of UNOSDP - United Nations Office for Sport for Development and Peace), in 2016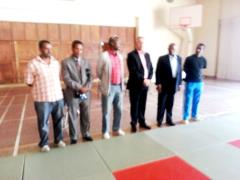 General Lassana Palenfo, President of the Association of National Olympic Committees of Africa & AJU President 2014
Mr. Panagiotis Theodoropoulos, President of Ju-Jitsu International Federation (JJF) and AIMS Vice President, 2009
The documentary film maker Mr. Garmamie Sideau accompanied important events and highlights on his shooting concerning the development of Judo & and Ju-Jitsu in Ethiopia
The regions contact persons
1. Hailemariam Amare (Dire Dawa)
2. Sisay Getachew (Harar)
3. Temsgen Gezahegn (Amahar)
4. Jemal Ahmd (Recognized representative Judo & Ju-Jitsu Oromia)
5. Wondimu Dessalegn (Addis Ababa)
6. Yared Negussie (Addis Ababa)
7. Menelik Mesfin (Southern Nations)
The regional activities are coordinating by Girmay Woldegabriel and Taye Tadesse, wheras all received their patronage support and advices from Dr. Tsegaye Degineh and Mr. Hannes Daxbacher assisted by Dr. Bezabeh Woldu and Eprem Assefa, who have a wide experience in national and international sport level.
In this respect, the trainers express their sincere gratitude to all athletes, supporters and the Ethiopian Sport Authorities in different regions and the Ethiopian Olympic committee for their work in order to develop Judo & Ju-Jitsu in Ethiopia.
Pedagogical and educational aspects / personal development through and by Judo/Ju-Jitsu
Details

Written by EJJA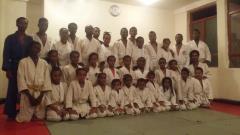 10 Judo values
Discipline
Rules: follow up, accept, ensure (fight for it)
Goals: looking to define, pursue, rejoice
Appreciation / esteem / estimation
Critical skills: active – pasive
Correlation of entitlement and self-assessment
Dealing with victory and defeat
Responsibility for themselves – in other duty of helpfulness: Sempei – Kohei (the Elder helps the younger ones, which helps the advanced beginner, etc.)
Hygiene
Judo and Ju-Jitsu in Ethiopia
Details

Written by EJJA
As indicated, we would like to state again on the relationship between the sisterly sports Judo and Ju-Jitsu. Ju-Jitsu (Jiu-Jitsu, Jujutsu) is a traditional ancient Japanese martial art and the father of some fairly new Martial Arts. The Olympic sport and martial art Judo was developed from using several traditional styles of Ju-Jitsu (Jiu-Jitsu) as the model by Kano Jigoro in the late 19th century. Ju-Jitsu is an incredibly effective self-defense system (with minimum effort maximum efficiency). Modem Ju-Jitsu contains from ancient Jiu-Jitsu, Jujutsu striking and punching and sweeping and throwing, joint manipulation and transferring power (Judo). Ju-Jitsu and Judo discipline have white up to black belt graduation program and competitions. They use the same terminologies as well as 80% Judo is a Ju-Jitsu technique. Even both arts used the same Uniform (Judogi) and Matrass (Tatami).
The principle of Ju-Jitsu and Judo follow with out questioning sex, age, and health condition that any individual in a way interested and capable can use it. They are Martial Arts that small and weak looking person can be able to win big and strong one. Modem Ju-Jitsu and Judo are not only given in clubs, police and military institutions but also children sport, women self-defense, senior and university sports, and also for disabled. They can be applied for self-confidence, developing determination, humbleness and more than anything for calming dispute or avoiding it, for being governed by law, for psychology and body strengthen.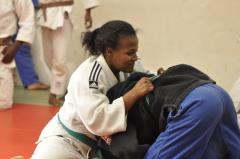 In Ethiopia Judo and Ju-Jitsu are still in development and needs more support. Practical lessons learned from other countries have shown that both arts are inseparable at least until the arts are well being developed (e.g France: Federation Francaise Judo Ju-Jitsu, Denmark: Danish Judo & Ju-Jitsu Federation, Swiss, Senegal, Mauritius, Tunisia). The experience of Germany (Judo 180.000 members and Ju-Jutsu 60.000 members) shows that until 1992 both arts belong to one organization, and the coalition of both arts used to accelerate the development of both Martial Arts and Sports The Judo sport is through International Judo Federation an Olympic Sport and Ju-Jitsu through Ju-Jitsu International Federation a member of International Sport Federation (SportAccord). The good example for Judo &Ju-Jitsu are body building and weight lifting are mostly organized in one association or federation.
Many famous coaches and highly recognized instructors visited Ethiopia in duty of International Federations and gave voluntary seminars and stages: just to mention only the Grand masters, Colince Tatsa Chinda, 6th Dan and JJAFU President, Joachim Thumfart, 7th Dan, JJIF sport director and former world champion, Giancarlo Bangulo, 6th Dan and President of Italian Federation JJ- FIJLKAM, Bernd Thomsen, 8th Dan and former Vice President of German Ju-Jitsu federation and Regina Monti Daxbacher, 6th Dan, female Judo Grand master and former Italian Judo National team member, in duty / order of German Ministry of Foreign Affairs and DOSB (German Olympic Sports Confederation).